CyberMarketingCon22 – The Top Takeaways Blog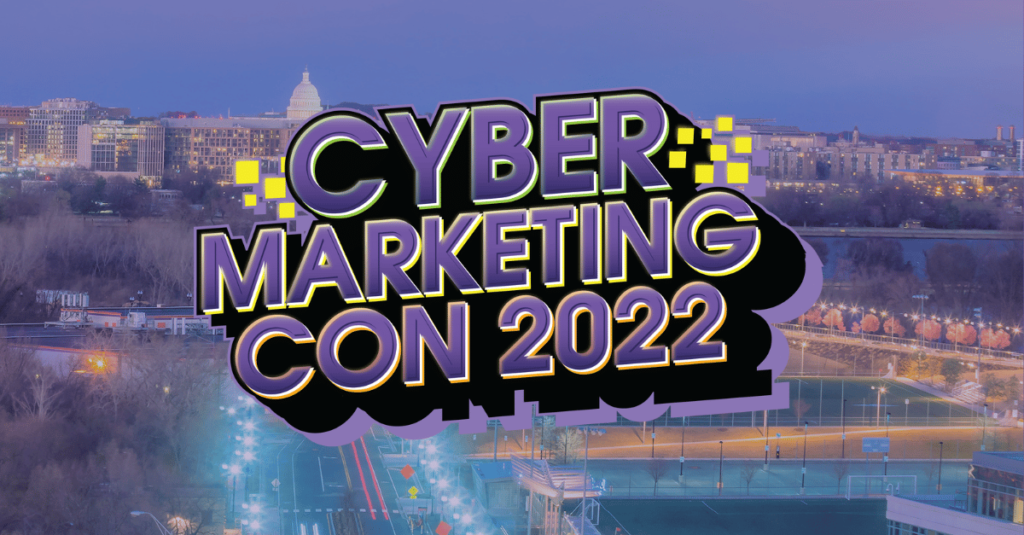 You know what happens when you bring together cybersecurity marketers – MAGIC! At least that's what Mark and I found out when we attended the first in-person CyberMarketingCon, hosted by the Cybersecurity Marketing Society, lead by Maria Velasquez and Gianna Whitver.
If you've ever put together an event, then you've experienced first-hand how hard it is. You spend hours poring over every little detail while crossing your fingers and toes that nothing goes horribly wrong. Somehow these two women and their crew of volunteers pulled off a three-day event, all planned in their "spare time." The result — a space for all of us cybersecurity marketing nerds to do what we do best – play the game of funnel: dead or not?, try to get deeper inside the CISO's brain, geek out about content and how to be more creative, and well, socialize.
If you didn't get to attend this year – guess what, next year will be in Hawaii! – ok, that's just an inside joke. But really, if you didn't get to attend the conference, don't despair. There will be a virtual one January 12-13, 2023. For more information, visit the Cybersecurity Marketing Society website.
Cybersecurity Marketing Takeaways
Can't wait for the juicy details – I'm here for you. Key takeaways coming at you now:
1. If you need a backup speaker – call Nate Burke
Unfortunately, the original keynote speaker was sick. So who do you call when that happens? Apparently, Nate. CyberMarketingCon wasn't his first rodeo as speaker of choice #2.  (Luckily for us and him, this wasn't the RSA Innovation Sandbox Contest.)
If you don't already know of this legendary CMO, he's the guy that leads up the team behind all those Simone Biles/Axonius campaigns, and he had some pretty good advice:
Swing big and prioritize brand – You don't need big names like Simone Biles, it's all about making that emotional connection in your marketing.
Brand campaigns can be hard to sell – Educate CEOs on what happens without brand marketing campaigns.
Attribution isn't as important as people think it is – Why do we even care what team is responsible? In the end, we're one team.
2. We still can't get a single answer on how to market to CISOs
There was a lot of talk about humanizing marketing at the conference. Seems like a no-brainer, but that's really hard when all of us are so…human. In the CISO panel we tried to get inside their minds to understand – how can we market to CISOs without pissing them off?
With a panel of three CISOs, there wasn't one clear cut answer. Turns out, they are each their own individuals. Huh.
Nevertheless, there were some solid insights:
Help them explain to the C-suite – Developing materials that help them translate tech-speak to the business level will put you in their good graces.
They are skeptical of "one platform to rule them all" – Instead, focus on how your product integrates well.
The big G is a necessary evil – The quadrants give them a place to start looking when evaluating vendors.
Show them how you map to standards like NIST and CMMC – They are busy and need to be able to see clearly if your product fits their needs.
They really like events around important problems – Invite them with a small group and don't pitch them and you've got event gold.
Proof of concepts are everything – They want to be shown, not told.
Put your CISO on your leadership page – Show you value their people.
3. Content is still king to build trust and credibility
There were several panels on content, but no one way to do it "right." Success came from a variety of techniques:
No more spray-and-pray – Marketers favor a content-first approach where content is the product.
Be laser-focused on value – Vendors are building trust and credibility with quality content that focuses on the needs of the audience.
Don't expect as many leads – A content-first approach may not generate as many leads, but it will generate leads that are warmer, higher-quality, and easier for sales to convert.
Downturn for What?!
I couldn't end this blog without touching on another hot topic – the economic downturn. Naturally, we were all curious about 2023 dollars. The poll results were:
No reduction in budget – 60%
Reduction in budget – 30%
Not sure/no response – 10%
For the majority, their leadership understands that especially in hard times, it is essential to invest in marketing. While others might need a little convincing. But either way, the conference helped us all think about how we can do better with the money we have.
Need help creating high-impact cybersecurity marketing? Let's chat.